About Us
MOTORHOMES AND CARAVANS
Merit RV is owned and operated by Nathan Butler, who has over 14 years experince in the industry and is well qualified to advise customers of the features and benefits of owning a motorhome, or caravan. He is aptly supported by Ken McLean who has a even more experience in motorhoming and brings a fresh perspective to customer service.
In 2005 the yard was doubled in size to provide one of the largest selections of quality brand new and second hand motorhomes, caravans and campervans in New Zealand. These include the fantastic range of Swift caravans and motorhomes.
"We sell our lifestyle vehicles throughout New Zealand"
Merit RV is an approved Swift Group agent in New Zealand. We have a range of Swift Motorhomes and Swift Caravans direct from the manufacturer Swift Group, UK. These include the Bolero, Escape, Sterling, Sprite and Bessacarr brand. They are the largest recreational vehicle manufacturer in England. "We have researched the market and are convinced we are now offering some of the best value new caravans and new motorhomes available in New Zealand."
Merit RV are the exclusive New Zealand dealer for the Swift Voyager range of motorhomes, and an exclusive NZ dealer for the Swift Explorer range of caravans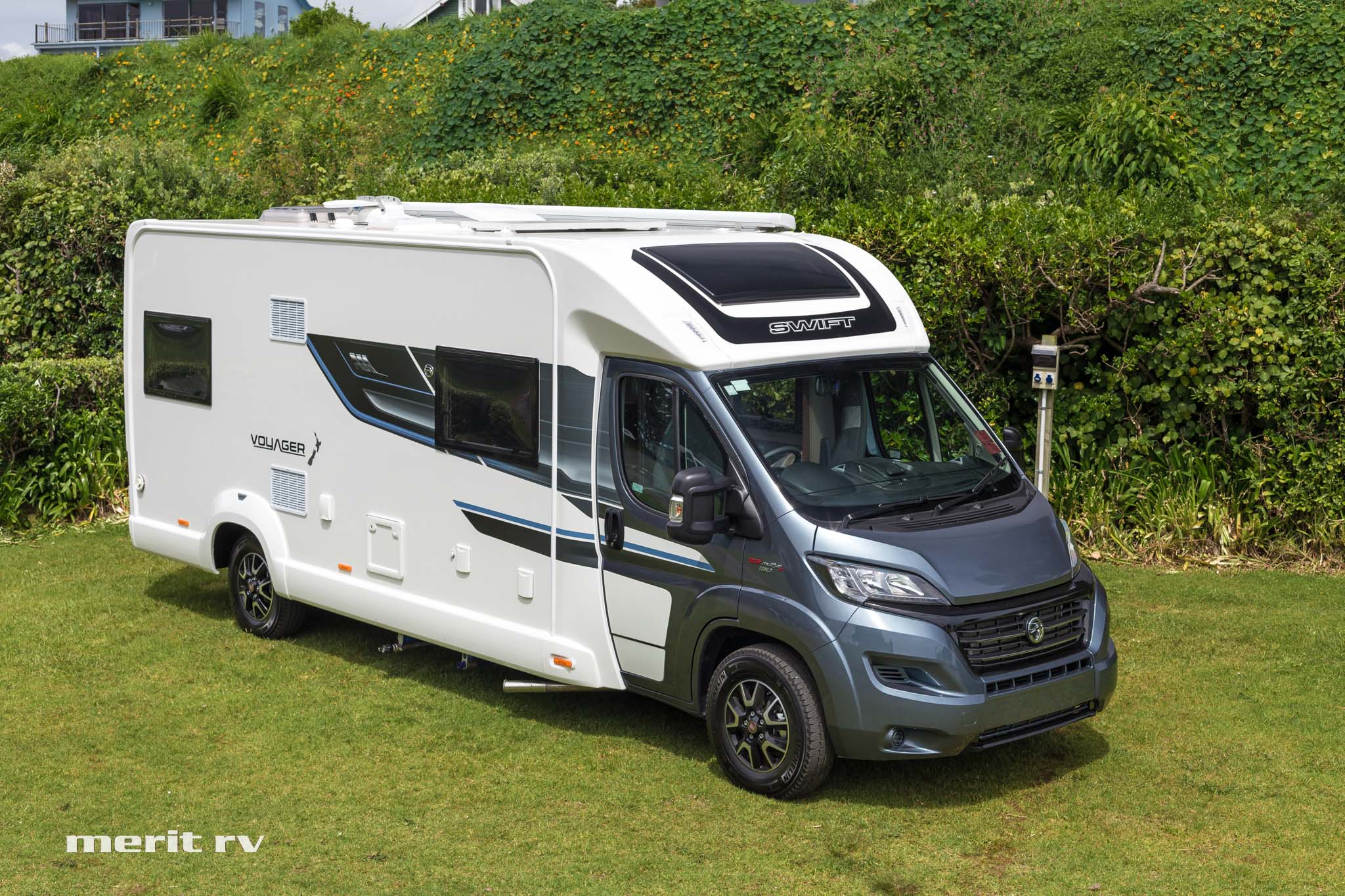 Merit on Leach (Corner of Leach and Gover Streets) sells very low kilometre, later model, higher-grade, wholesale priced vehicles imported direct from Japan with the occasional traded in vehicle, all priced from $12,000. Jeremy Hutchings has many years of experience with both new and used vehicles and is very capable of helping our clients satisfy their motoring needs. He is ably supported by Amanda Elliott who has a passion for cars and a passion for helping customers find the ideal vehicle, having worked with new and used cars also.
Merit on Devon East (491 Devon Street East) sells mainly under $12,000 vehicles traded from our other yards with a number of first time wholesale imports to add to the mix. Chris Elliott is ably supported by Andrew Butler, both have many years experience in the industry and a passion for helping their customers find a vehicle to suit their needs. 
Merit on Molesworth WE HAVE MOVED! (Vehicles now located at our Devon St East Branch)
Paul Butler is the general manager of Merit Cars, he was inspired by his fathers involvement in the motor industry from the early 1950's. Paul opened his first dealership in New Plymouth over 27 years ago and since then the business has grown due to the reputation, selection and quality of the vehicles. His idea to seperate the business into three yards gives people the opportunity to go to the yard whichever specialises in their individual needs.
All vehicles, directly imported by Merit Cars undergo a stringent AA inspection, are complied to New Zealand Standards, undergo mechanical servicing, full grooming and detailing before being sold. With the wide selection of quality vehicles we have available, customers have a great choice, however we will endeavour to buy to a customer's requirement if we do not have something specific in stock. 
We sell and deliver throughout New Zealand including all on road costs plus a smile and a few extras which also leaves our customers smiling as they take delivery of their new vehicle.
Buying a vehicle from Merit on Leach, Merit on Devon East, Merit on Molesworth or Merit RV, couldn't be easier. As an MTF DEALER, we offer on the spot finance at very competitive rates which can be arranged on the premises or directly by completing the finance application provided online. Customers can trade in their old vehicle even if they still owe money on it and Merit will settle up the finance owing. "We want to give our client a happy and seamless experience with package deals to suit every client's situation"
MERIT as an AUTOSURE APPROVED DEALER is a supplier of Autosure 1-4 years mechanical breakdown insurance. Established in 1986, Autosure is owned by Vero, one of New Zealand's largest insurers.